The Changing Face of Head and Neck Cancer GP and Dentist Education Module
Learn how to identify and support Head and Neck Cancer patients.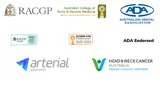 The face of Head and Neck Cancer (HNC) has changed. While in the past the main contributing lifestyle factor has been smoking or alcohol, today in Australia 70% of oropharyngeal cancers are caused by the Human Papilloma Virus. There has also been an alarming and perplexing 385% increase in the number of young women diagnosed with tongue cancer in the last 30 years. These young women tend not to have any of the risk factors typically associated with tongue cancer. They are not heavy drinkers or smokers yet their cancer is highly aggressive with a five-year survival rate of 42 per cent in these younger patients. The cause for this increase is unknown.

The presentation of HNC may be non-specific and as a result symptoms and signs of HNC may be missed by GPs and Dentists. 

Join ENT/Head and Neck Cancer Surgeon, Dr Matthew Magarey and Dr Felix Sim, Oral and Maxillofacial Surgeon and Head and Neck Cancer patients in an interactive, case-based one hour online education module about the changing face of Head and Neck Cancer and improving confidence among GPs and Dentists with regard to prompt patient identification and optimal referral to a specialist for further management.

Also learn more about how you can support your patients who are newly diagnosed or living with the long-term side effects of HNC.

By the end of this learning activity, participants will be able to:
Describe changes in the demographics and trajectory in Head and Neck Cancer epidemiology.
Identify specific signs and symptoms of Head and Neck Cancer in comparison to non-malignant lesions.
Select the optimal referral pathway for patients with suspected Head and Neck Cancer .
Outline the unique long term survivorship support needs of people living with Head and Neck Cancer. 
Perform oral and neck examination to identify signs of Head and Neck Cancer.
The Changing Face of Head and Neck Cancer education module is accredited by the Royal Australian College of GPs and Australian Collge of Rural and Remote Medicine and endorsed by the Australian Dental Association.
 
The Module will be available to all Dentists and GPs in Australia on the Arterial Education website and via links from the RACGP, ACCRM, ADA and HANCA websites.

All healthcare professionals, including dental hygienists and dental and oral health therapists, can also register and enrol in the module and will receive a certificate on completion.
Help Raise Awareness of the Module
To help raise awareness of our new resources we have created a digital campaign kit with social media graphics that can be downloaded and used straight-away OR PRINT the A4 GP or Dentist Flyer and give it to your local GP or Dentist. 
Download and Print A4 Flyer for your GP or Dentist.
Please help us raise awareness - download today!
Thank you
Our sincere thanks to the Expert Advisory Committee who helped to inform the content for the module. We couldn't have delivered such an informative and valuable resource without their expertise and support.
 
A/Prof Ardalan Ebrahimi, EAC Chair, HANCA Board Director, HNC Surgeon, Canberra Hospital, ACT
Dr Taleitha Atkins, GP, Moss Vale, NSW
Dr Mikaela Chinotti, Dentist, ADA Oral Health Promoter, Australian Dental Association,      Federal
A/Prof Dylan Hyam, Maxillofacial Surgeon, Canberra Hospital, ACT
Jenny Johnson, Senior Policy and Development Officer, Australian College of Rural and Remote Medicine
Dr Matthew Magarey, HNC/ENT Surgeon, Peter MacCallum Cancer Centre, VIC
Dr Steve McCrea, Dentist, Wollongong, NSW
Dr Karen O'Brien, GP, Victoria
Dr Amanda Phoon Nguyen, Oral Medicine Specialist, University of Western Australia, Perth Children's Hospital, WA
Nadia Rosin, CEO, Head and Neck Cancer Australia
Dr Sneha Sethi, Dentist/Oral health researcher, University of Adelaide/Adelaide Dental School, SA
Carolyn Smith, Former patient, HANCA Board Director, ACT
Thank you also to Arterial Education for their expert guidance and helping to deliver an engaging and interactive module.
 
The module was delivered with the support of funding from the Australian Government and launched on Tuesday, 7 March at HANCA's first Parliamentary Breakfast at Parliament House in Canberra hosted by the Parliamentary Friends of Cancer Care and Cure Group.