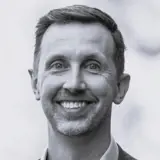 Matthew Magarey is an ENT, Head and Neck Surgeon. He trained in Melbourne and gained further post-fellowship experience in Toronto, Canada and London, England. His areas of expertise include throat, tongue and thyroid cancer, nasal and sinus conditions, parotid tumours and metastatic skin cancer in the head and neck. He is one of Melbourne's most experienced Trans-Oral Robotic Surgeons.  
Matthew is the Head of Unit for the Peter MacCallum Head and Neck Cancer Surgery Division. He is also Chair of the Peter MacCallum Head & Neck Cancer Multidisciplinary Meeting. He operates at Peter MacCallum and Box Hill Hospital and works privately at Pinnacle Surgery located in the Epworth Hospital, Richmond. 
Matthew is actively engaged in research with numerous publications in peer-reviewed journals. He lectures regularly for ENT registrars, GP registrars and medical students and is a senior fellow at the University of Melbourne.
Matthew is passionate about functional outcomes following treatment for Head and Neck Cancer. He believes that ongoing support is essential for patients and has been involved as an advocate for HANCA. He is thrilled to be joining the board and looks forward to helping HANCA expand and grow over the coming years.