Tiel Lillehagen
It took Tiel more than three months to work out why a persistent sore throat wouldn't go away.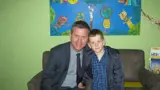 Tiel Lillehagen works in property development and thrives on talking with colleagues and using his problem solving skills to manage projects where no two sites are the same.

However, it took Tiel who is 43 years old more than three months to work out why a persistent sore throat wouldn't go away. "I live in Melbourne with my wife and two young children but travel twice a month to Brisbane and Perth for work. I had a sore throat but put it down to the constant travel and regularly catching up socially with colleagues. I kept thinking that the reason my throat was not getting better was because I wasn't giving myself a chance to recover."

Tiel explained he thought it was odd that his throat only felt sore on the left hand side and in September 2017 decided to see his doctor. "At first my GP wasn't too concerned and gave me a script for antibiotics, but said it would probably clear up on its own so advised not to take them for a couple of weeks."

After a month with no change and starting to experience a sore left shoulder, Tiel went back to his doctor. "The symptoms were confusing both me and the GP. He thought it might be a pinched nerve as I had numbness in my left shoulder and arm as well as around my mouth and eye."

Tiel was sent for an MRI but the results were clear. "I found out later from my ENT that the MRI was just a little below where the tumour was so unfortunately it didn't show up. After that my GP referred me to a neurologist who couldn't find anything either."

Despite not being a heavy drinker, Tiel made a conscious effort to spend a few weeks not drinking alcohol and looking after himself in an attempt to get on top of things. By this time it was nearly Christmas and it was while having his first beer in several weeks with a colleague that Tiel felt his throat getting worse and decided to return to his GP, who referred him to an ENT.

"I saw ENT Surgeon, Dr Matthew Magarey at Pinnacle Surgery in Richmond on 22 December who organised a CT scan, MRI and biopsy all on the same day. Dr Magarey explained to my wife and I the recent increase in head and neck cancers related to the human papilloma virus (HPV) and that my tumour was likely be one of three things: benign, a HPV related cancer or another type of cancer.

Tiel and his family had an anxious wait hosting family and friends on Christmas Day before returning to Dr Magarey on 27 December to get the results where they were told he had a HPV related head and neck cancer in his left tonsil that had started to spread to his lymph nodes.

In the weeks to follow Dr Tsien Fua, a Radiation Oncologist at the Peter MacCallum Cancer Centre in Melbourne, set him on an aggressive course of treatment involving radiation five times per week for seven weeks on both sides of his neck and weekly chemotherapy sessions for seven weeks.

"I'm a fairly pragmatic person so was pleased to be in Melbourne and to have access to the team at Peter Mac.
I remember wanting treatment to start and, while it all happened so quickly, it also felt like it took forever for everything to be in place, including having a radiation mask made.

It was during this time that Tiel and his wife found the Beyond Five website. "After I was diagnosed we wanted to get as much information as we could but the internet can be a terrible source of information. It was a relief to find the Beyond Five website and get answers to some of our questions."

Being kept informed by his multidisciplinary head and neck cancer team also helped make the treatment a little easier. "It was a very tough journey but the team at Peter Mac were always very inclusive. Even though it was me having the treatment, my wife and I were viewed as a team and we were always told where my treatment was at and what to expect next, which helped me focus on the outcome."

Reflecting on his journey, Tiel recalls some of his lowest moments were dealing with the side effects of the steroid given to manage nausea that can affect a person's mood. "I didn't suffer depression but the medication made me very insular and there were days I thought I couldn't continue with treatment. People talk about finding their inner strength on the journey but while my wife did, I certainly didn't. I didn't want to share how I was feeling or how difficult the treatment was with her but thankfully the psychologist helped me understand why my mood was affected and Amy had a great support network with her mother and sister as well as friends."

While Tiel knew he was in good hands at Peter Mac he worried about the side effects of treatment. "Despite being told by Tsien that the side effects would last beyond treatment, I naively hoped and expected to get better more quickly which wasn't the case.

A PET scan on 4 June 2018 showed that Tiel was in remission with no sign of cancer and he's now working on finding his new normal and dealing with side effects that come and go like dry mouth and excess mucus as well as a gap at the back of his mouth where a tooth was removed. "It's minor, but having a tooth extracted is really annoying to me. I also don't look forward to eating. I prefer not going to restaurants and I couldn't think of anything worse than cooking a meal because I know I won't enjoy it. This is the hardest thing to this day."

Tiel credits his close family and friends for getting him through and said mentally they were all trying to put the experience behind them. "We recently celebrated with a trip to Fiji and while there are always niggling issues, I'm just trying to focus on enjoying time with family and friends, building up my strength and eating well."

And Tiel's advice for others, particularly men? "Life is short and cancer can happen to anyone. Everyone leads a busy life and we all solider on to a certain point, but it's important to pay attention to your body and if something doesn't feel right, get it checked out by your doctor."

Our sincere thanks to Tiel Lillehagen for sharing his story and Dr Tsien Fua, Radiation Oncologist at the Peter MacCallum Cancer Centre in Melbourne for his assistance with Tiel's story.