Olivia Mcdonald
Olivia was diagnosed with stage three squamous cell carcinoma of the tongue in 2021.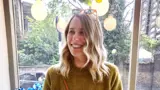 From 2013 Olivia McDonald has been living abroad, first in Dubai and now in London where she is Creative Director of her own brand design studio. She loves good food, travel, visiting galleries and of course design, so London has been an idyllic setting for her.
In early 2021 Olivia developed a persistent ulcer that was  becoming more red and harder by the day. She was also suffering pain in her jaw and ears and was experiencing persistent headaches. Within two months of the ulcer appearing Olivia was diagnosed with stage three Squamous Cell Carcinoma of the tongue.
Olivia initially went to her GP two weeks after the ulcer appeared she was then seen twice more before receiving an urgent referral to a specialist. Following this, she had an MRI, CT, ultrasound and a biopsy before finally being diagnosed on the 12th May 2021. 
Originally from Sydney, Olivia sought a second opinion from an ENT in Perth before ultimately deciding to stay in London for her treatment. 
Her diagnosis was a complete shock which left her with many practical and emotional questions, the majority of which were answered by her clinical nurse. Olivia also did her own research, looking into the treatment she would receive, reading about other young women's stories and keeping a Q&A log for when she next saw her clinical team.
On the 24th of May, only twelve days after Olivia's initial diagnosis she underwent a 15-hour surgical procedure, the aim to remove the tumour on the left side of her tongue via a  hemi-glossectomy and then reconstruct with a free flap from her forearm. For the free-flap a vein and piece of tissue from her left arm was taken, leaving a skin graft and 8-inch scar. Olivia also had four teeth removed from the left side of her mouth, a neck dissection removing 21 lymph nodes and a tracheostomy to help her breathe.
Following her surgery, Olivia was in the intensive care unit for several days  and her recovery was going well until her team were unable to detect a pulse in her flap. Within half an hour she was rushed back to the theatre for another 8-hour surgery. Unfortunately, despite her team's best efforts, they were unable to salvage her flap, so a temporary pack was put in place and then three weeks later she underwent a third surgery to close up her tongue.
This whirlwind of surgeries was a confusing time for Olivia as there was no explanation on why her flap had failed despite the repeated testing. She was told that flap failure only happened in 3% of cases, making it  a rare and unfortunate occurrence. Olivia then began radiotherapy treatment, and as she was unable to eat was fitted with a PEG feeding tube for nourishment.
Now, over six months post-treatment, Olivia is rebuilding her confidence, undergoing physiotherapy, speech therapy and slowly returning to herself.  She describes being "totally exhausted" during her acute treatment period, having no time to rest.
"Your body is just taking everything that comes at it and you're really busy, not only with treatment but all the appointments, management and day to day maintenance you have to keep up".
Olivia describes all of her treatment as "hugely challenging", but the night her flap failed was by far her scariest moment. It was not only because she was in the hospital on her own vulnerable and weak during Covid, but because she had not prepared herself for something going wrong. Thankfully, despite this bump in the road, the loss of the flap hasn't had a major impact on her overall recovery.
Olivia was able to overcome these challenges by having an amazing support system .
"Everyone has been phenomenally supportive. My partner has been at my side continuously through the good, bad and downright terrifying. My Mum was able to come over from Australia to help me through recovery and radiotherapy which we would have struggled with big time without her. I feel so grateful to have such an amazing community around me"
Olivia has tried to stay optimistic throughout her diagnosis, treatment and recovery but was mindful of taking on any 'toxic positivity'. "You are allowed to feel how you feel, no battery is positive only". 
She also began interacting and being supported by the 'Young Tongues', a global group of young people who are diagnosed with tongue cancer.
"You will get those in between answers from people who can empathise with your experience that medical teams can't provide (purely as they're not patients). As a young woman who is quite visual by nature, I turned to Instagram to find my group, and I was lucky enough to stumble into the clutches of the wonderful Young Tongues. 
"Started earlier in 2021, Young Tongues is a global group made up of young people who are diagnosed with tongue cancer. I found them after my surgery, and the wealth of knowledge and emotional care I got from them, and now friendships, has been simply outstanding. They're brilliant advocates for different treatment experiences around the world too, and will no doubt help influence experiences for others in future."
Now in the recovery stage, Olivia wants to share her story with others who may be going through a similar experience.
"Recovery is a long process that isn't always linear. You will take one step forward and two steps back. In all respects."
"My main advice would be to let everyone care for you, let people be there for you, reduce stress as much as possible and just ride the wave believing in yourself."
Olivia was told that she would be back to her old self within 6 months,  and although she can function normally again she still has some distance to cover.
She believes she still has a lot more healing to do physically  and although it is a long road to recovery she is proud of how far she has come.
"Don't be afraid to say you're already strong to all the people who tell you to 'be strong'. Every cancer patient is strong! The treatment demands you to be."
Thank you Olivia for sharing your story.