Nicole Menardo
Going above and beyond for Head and Neck Cancer: a carer's story.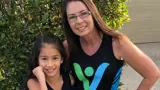 In 2016, Nicole's husband, Don was diagnosed with nasopharyngeal cancer, a rare cancer that starts in or behind the nose.

Don had a number of symptoms including hearing impairment, pain in the neck and shoulders and persistent headaches but these were initially overlooked. It was only after he had a significant nosebleed that doctors investigated further through imaging.

After he was diagnosed Don had a combination of radiation and chemotherapy which was successful in eliminating the primary tumour. In the next 18 months, Don had significant post-treatment side effects including temporarily not be able to speak or eat but despite the many obstacles he continued to strive to achieve a 'new normal'.

Celebrating 12 months of cancer free check-ups, Nicole and her family moved to the Gold Coast in January 2018, deciding it was the perfect place to settle down and bring up their young family.

It was in late 2018, however, that Nicole and her family received the devastating news that Don now had secondary cancer of the lung, traceable to his primary diagnosis.

Today, Don continues to undergo treatment and has commenced an immunotherapy trial with Prince Alexandra Hospital and QIMR Berghofer Medical Research Institute in Brisbane.

Nicole wanted to share her story and voice to support other carers and partners of those who have received a diagnosis of head and neck cancer.

"I took three months off work to support Don during his combined radiation and chemotherapy treatment, juggling the family schedule and battling fatigue as Don required around the clock monitoring and assitance," explains Nicole.

"During Don's radiation treatment to his head and neck in 2016, it was important that he care for himself as much as possible for his own sense of independence and dignity."

"As Don's wife, acting as his advocate and carer, I took on the responsibility of processing the large volume of information about diagnosis, preparation for treatment, side effects and rehabilitation in addition to scheduling appointments, checking medication levels and liaising with his medical team to ensure his changing medical needs were being met."

Nicole also did her own research of the most appropriate foods for Don to eat and ensured she had an adequate supply of nutritional formula when he could no longer eat by mouth.

Towards the end of Don's treatment with his health deteriorating Don's parents were able to step in and care for their youngest child who was three years old at the time, whilst their older daughters remained at home.

Dr Puma Sundersan, one of Beyond Five's directors was Don's radiologist in 2016 and provided Don and Nicole with comprehensive information to help manage what was an extremely difficult period.

"I have witnessed first-hand how improved access to information can remove some of the uncertainties and fill voids with hope," said Nicole.

"I now turn to Beyond Five as a source of information to educate others about head and neck cancer. I've recently shared Beyond Five's information about immunotherapy with family and friends to improve their understanding of the continued treatment Don is receiving".

Nicole says she is confident in her ability to care for Don during treatment and remain supportive during the long post-treatment recovery period because of the advice she receives from specialists, nurses and support services. She's also grateful to still be supported by Dr Puma through Don's secondary diagnosis.

Through Don's journey of head and neck cancer, Nicole notes that it has made her and her family more grateful for the simple things in life.

"We focus on the many things we are grateful for and make it a priority to be surrounded by family and filling our home with joy and laughter."

Nicole also has a greater appreciation for other families living with a cancer diagnosis, no matter the type of cancer. Nicole cherishes her wide support network, friends and family who continue to support her family in many ways as well as all medical staff for their dedicated contribution to improved health care.

"I am quite proud of the strength I have had to support Don and our family, but I could not have done it alone. I want to let other carers know that they are doing a wonderful job on this uneasy path that they have been delivered and that it is okay to look after yourself in the process and surround yourself with good people.

"It is also okay to say when you need help. I started to focus on improving my own health last year following Don's secondary diagnosis. I could not run 1km a year ago. I couldn't think of any better inspiration to run 10km than to help others affected by head and neck cancer."

Our sincere thanks to Nicole and Don Menardo for sharing their story and to Nicole and Amber for running in the Gold Coast Marathon to support HANCA.