Kerri Orgill
40 years old, pregnant and diagnosed with Salivary Gland Cancer.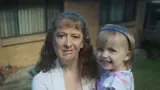 In 2010, during the early stages of her first pregnancy, Kerri Orgill from Wollongong, a coastal city south of Sydney, noticed a strange lump in front of her right ear. When it was still there a few days later she went to see her GP who ordered both a blood test and fine needle biopsy. No clear diagnosis came for both tests, so Kerri continued to monitor the lump. It became painful and was growing so a second biopsy was performed, and again nothing abnormal was detected.
It was then that Kerri was referred to Association Professor Bruce Ashford, a Head and Neck Cancer Surgeon at Wollongong Hospital, who also performed a biopsy, only to receive the same results. Due to Kerri's pregnancy, doctors were limited in the tests they could perform. For her and her unborn child's safety, she could not have a CT scan or an MRI so A/Prof Ashford ordered a core biopsy to be performed via ultrasound.
On 23rd September 2010 Kerri was diagnosed with a high-grade carcinoma in the parotid gland, also known as salivary gland cancer. She was only 40 years old, and this type of cancer is more prevalent in older males, drinkers and smokers. She only occasionally drank, and had quit smoking 15 years prior. Already 30 weeks pregnant, and after four years going through IVF, this was devastating news for Kerri and her family.
Kerri was now faced with the decision of when she should have her baby, so that she could then begin her cancer treatments. A/Prof Ashford advised that it would be beneficial to begin treatment and operations as soon as possible, whilst her obstetrician advised that the longer the baby could develop, the better. It was decided that 34 weeks was enough to ensure the safety of both, and her baby was given steroid injections to help the lungs develop.
 The delivery was a success.
Kerri gave birth to her daughter, Aime, on 22 October 2010 at St George Private Hospital. Kerri's baby only needed oxygen for twelve hours, and stayed in the special care nursery for a total of two weeks. Kerri was overjoyed to have five wonderful days with her newborn daughter and family. But there was still a looming shadow to deal with. On 27 October Kerri was admitted for surgery.
"I can't explain how hard that drive to the hospital with my husband was, having to leave my little girl, even though I knew she would be well looked after by the nurses. I didn't know if we would be together again. I can still feel the pain of that day, even today."
What followed was a grueling twelve-hour operation to remove the cancer and to reanimate the right side of her face. Part of her nerve structure had to be removed, so part of her right thigh was used as a replacement. The next morning, all she felt was extreme aching in her body. During her pregnancy she was not able to use strong pain relievers, but now that her baby was born, she welcomed them.
Kerri spent four days recovering before being reunited with her family, and most importantly, Aime. She stayed in hospital for another week before they were discharged.
After one month it was time for the next stage of treatment with Kerri receiving chemotherapy and radiation therapy for six weeks. Professor Andrew Miller was Kerri's radiation oncologist, who she was very comfortable with as he always made sure to answer any of her questions. She consulted a dietitian as the treatment caused her to experience a loss of appetite, some discomfort when eating, and a significant decrease in saliva. Christmas dinner was very disappointing as she had also lost some sense of taste. To combat any weight loss, Kerri was given a thick milk drink, which provided her with the nutrients she needed to keep her strength up and regulate her weight.
Radiation therapy proved challenging with a radiation therapy mask placed over her face and shoulders and clipped to the bed to help the machine precisely target the cancer. Kerri found that concentrating on her breathing helped to relax her.
"I remember my last radiation therapy treatment like it was yesterday. I brought in an album by AC/DC which I asked the team to play as loud as they could. I'm sure the whole waiting room could hear it, too. I also cut up the mask and threw it in the bin as I knew I wouldn't need it again. Walking out of there was such a good feeling." 
Over the next five years Kerri had checkups with either her surgeon or radiation oncologist. They were both cautiously optimistic, which gave her hope, and she knew that if the cancer returned it would be detected early. After five years she was given the all clear.
"I was so blessed to have the team of doctors that I did. Not only were they extremely professional, but they had a fabulous bedside manner which was a critical part of the job. The nurses were also amazing. Thank you to everyone who looked after me."
Kerri did have a few issues with her eye being constantly dry and weeping, and the lower eyelid drooping since the removal of her facial nerve. Dr Gazi Hassan, Plastic and Reconstructive Surgeon, was able to harvest a tendon from her wrist to utilise as a sling to adjust the position of the lower eyelid. This has helped Kerri to feel less discomfort in her eye and decrease dryness and weeping.
Ten years since noticing the lump in front of her right ear, Kerri remains acutely aware of any changes in her body, but feels great.
"I still have a small bulge on my neck following surgery which I do get a little self-conscious about, but I'm lucky I have long hair and when I have it down, no one can really see it. Besides, everyone has a story to tell and this one is mine".
Thank you Kerri for sharing your story.
Click here to learn more about Salivary Gland Cancer.