Helen Macgeachie
Helen was diagnosed with Tongue Cancer in 2012.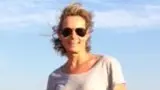 Helen MacGeachie is a former professional triathlete and competitive runner and swimmer. Health and fitness have always been very important to her.

That's why she immediately went on a strict diet when she was diagnosed with tongue cancer in 2012. Helen cut out all animal protein and sugar as she had heard that cancer feeds on sugar.

Helen had a large ulcer under her tongue for about six months, but her GP wasn't overly concerned when she went to have it checked. Fortunately, a week later at a routine dental appointment, her dentist recognised it as cancer and referred her straight to a specialist.

Helen was 40 when she was diagnosed, with no history of cancer in her family. "I'd heard of my cancer but thought that it was one that only smokers got and I've never been a smoker," she says.

Her reaction was: "Right, what do I have to do to get rid of this?". Helen believes that it was living through some stressful personal times over the previous ten years that gave her cancer.

Helen's treatment wrought big changes in her life. She had one third of her tongue removed as well as all the lymph nodes on the right side of her neck. After six weeks of radiation therapy she had to learn to talk, swallow and eat again.

She describes her post-operative recovery period: "My neck and tongue were swollen for about five months after the operation. I had to get regular lymphatic draining and will continue to have this each month for the rest of my life. If I don't, the build up of lymphatic fluid results in headaches, tiredness, talking is a lot harder and my speech becomes slurred."

The treatment may have affected her fertility. Helen and her husband tried both IVF and IUI (intrauterine insemination) but she was unable to conceive. She thinks it could have been a result of the radiation therapy, although she knows her age may have played a part.

Helen says that cancer changed her perspective on life in a very big way, all for the better. She was single and had been keen to meet a partner before she was diagnosed. "Once I was diagnosed I stopped searching for a guy and was just happy being me, I concentrated on doing the things that made me happy and made me my number one priority."

A couple of years after this shift in mindset, Helen reconnected with someone from her past and they married in January 2017. "We had to give up on the idea of having our own family – so we'll just spoil each other, travel, retire early and have a very nice life."

"I now appreciate life, my friends and family a lot more. I have eliminated as much negativity in my life as possible. I live in the moment a lot more and don't worry about the future – I'm a big believer in the universe taking care of all of us in the way it's meant to."

Since being diagnosed, Helen has met six other women all around her age (35 – 45 years old) who are fit, healthy, non-smokers and have also been diagnosed with tongue cancer.

She says: "I've given a lot of support and shared my experiences and advice that I learnt through my own research when I was fighting tongue cancer. I am interested in learning how to become a lymphatic drainage therapist myself and may start doing a course in it next year."

Helen's main form of exercise now is ocean swimming and yoga. "It's a lot easier on my body since I've had cancer plus they are both fantastic for my mind." She also surfs, walks, runs and cycles regularly.
Thank you Helen for sharing your story.