Greg Graham
Greg was diagnosed with Oropharyngeal Cancer in 2009.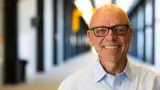 At the end of 2009 Greg Graham and his family were on holiday in Tasmania when he noticed an odd lump on the side of his neck. His wife, a former GP herself, urged him to get it looked at as soon as they got back home. The family returned to Adelaide on a Sunday, and he made an appointment with his GP for Wednesday morning. 
Not liking the look of the lump, Greg was booked in for an ultrasound that afternoon, but once at the appointment, the clinician suggested he have a fine needle biopsy instead. By Saturday he had been diagnosed with oropharyngeal cancer, a cancer that occurs in the tonsils and base of tongue, caused by the human papillomavirus (HPV). 
Greg, who is now 57 and lives in Newcastle in NSW, has an active lifestyle. A keen cyclist, hiker and surf lifesaver, he is a loving husband and father to two young adults. 
"I had always associated head and neck cancers with smoking and had never heard of any link with human papillomavirus or HPV16."
While the majority of preventable head and neck cancer cases are caused by tobacco and alcohol, many Australians may not be aware that some types of head and neck cancer are caused by HPV, so even if you don't smoke or drink you could still be at risk. 
HPV is the cause of around 70% of oropharyngeal cancers. It is estimated 700 Australians will be diagnosed with an oropharyngeal cancer this year and around 490 of these cases will have been caused by the HPV. Many of these viruses are easily spread by sexual transmission through vaginal, oral and anal sex and the proportion of oropharyngeal cancers linked to HPV is increasing. 
Four out of five people will have some kind of HPV infection somewhere in their body at some point in their lives but most of us will clear it. For those who don't, the symptoms of HPV related head and neck cancers can start with a sore throat that doesn't go away or a neck lump, much like Greg's. HPV cancers respond well to treatment, so early detection is key.
Following his diagnosis Greg was referred to Professor Suren Krishnan, a Head and Neck Cancer Surgeon in Adelaide, 
"Dr Krishnan is a very capable and gentle man with a great manner and a very strong clinical background. He said I needed surgery and radiation, and that having chemotherapy concurrently with the radiation would also enhance my survival rate. I opted for all three."
Greg had surgery at The Memorial Hospital under Dr Krishnan, Dr Brian Stein was his Medical Oncologist and Dr Martin Borg his Radiation Oncologist. After a successful surgery Greg was faced with seven weeks of radiation and chemotherapy. 
"I understood the treatment plan in a mechanical way but had no idea how this would play out physically or mentally."
Greg's wife worked hard to ensure any side effects were managed, and remained positive while running a busy household with two teenagers in it. 
"I took a week off work after surgery and then went back. I worked through the radiation and chemotherapy treatment except for Fridays as the chemotherapy took several hours. After a couple of weeks, I started to experience fatigue and nausea, and trouble eating due to mouth ulceration."
A common side effect of head and neck cancer treatment is a change in taste sensations, often food seems metallic and dry. "As much as I liked the idea of eating, once I had a mouthful that all went out the window."
Greg was taking several anti-nausea medications which made sleep difficult. He was also unable to brush his teeth, so was reliant on antiseptic mouthwash. 
"Towards the end I was very fatigued and my moods were not great as a result."
Reaching the end of his treatment did, however, mean things were slowly turning a corner. 
Greg had regular check ups with his cancer care team over the next few years, which meant he was seeing someone every couple of months. He understandably felt apprehensive before these sessions, "For the first couple of years, the possibility of recurrence is never far from your mind but does recede over time." 
Aided by early detection, Greg feels very fortunate that for him the ongoing physical impact of head and neck treatment is fairly minimal. In terms of advice he suggests you trust your doctors and those who are supporting you, and most importantly keep going.  
"In terms of my outlook on life, I think it sharpens your fear of death. I have always been considered someone who will try to do too much. I have never been a moderate person and I think having had cancer has made that part of my personality all the more noticeable."
That is surely not a bad thing Greg. 

Thank you Greg for sharing your story.
Click here to learn more about HPV Head and Neck Cancer.