Graeme Lewsey
Melbourne Fashion Festival's CEO becomes Head and Neck Cancer Australia Ambassador.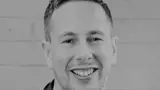 March 2021
Graeme Lewsey, CEO of the Melbourne Fashion Festival, has hit the ground running since becoming Head and Neck Cancer Australia's Victorian Ambassador in March 2021. 
You can read more about Graeme in The Australian - Download free article here or in the May 2021 issue of Vogue Australia. 
Graeme was diagnosed with a human papilloma virus (HPV) related head and neck cancer in 2020 and treated with surgery and chemo-radiation in Melbourne.
"My treatment involved surgery and chemo-radiation across multiple hospitals, surgeons and teams of doctors. My respect and understanding of our medical professionals and their often-fragile support infrastructure grew substantially."
"My personal journey with a HPV related head and neck cancer highlighted many gaps and opportunities to improve support for people living with head and neck cancer."
"I am honoured to be appointed as HANCA Ambassador and am extremely passionate and excited about using my leadership skills to help raise awareness of head and neck cancer and improve patient support and outcomes."
Thanks Graeme, it's great to have you on board.
Learn more about the Human Papilloma Virus and Head and Neck Cancer
More about Graham
After graduating from his Bachelor of Arts Degree at RMIT University and briefly designing for his own fashion label, Graeme was awarded Australian Young Designer of The Year by The Woolmark Company which was then followed by over a decade of working with leading fashion brands, retailers and marketing agencies in Europe.
Returning to Australia in 1997, Graeme was involved in the development of Australian Fashion Week in Sydney and subsequently joined the global team at IMG as a Senior Executive for the Asia Pacific region, helping to establish a range of events including Singapore Fashion Festival and Hong Kong Luxury Week.
Graeme was appointed as the Chief Executive Officer of Melbourne Fashion Festival Ltd. in May 2011 and continues in this role. He also consults and volunteers with several organisations that enhance the growth and development of Australia's creative industries.
He is a member of the Industry Advisory Group for RMIT University's School of Fashion, is a resident judge for the annual National Designer Award and the National Graduate Showcase and is a mentor for the Australian Fashion Council's curated program for emerging designers. He recently completed a full term on the founding Creative State Advisory Board for the Victorian Government and is an official voluntary ambassador for Head & Neck Cancer Australia (HANCA), the charity formally known as Beyond Five.