Arthur Grech
"Every extra day is a great day" Arthur Grech, twice cancer survivor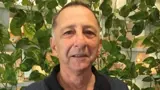 For two-thirds of his 62 years of life, Arthur Grech, from Wyong NSW, has had a close relationship with cancer. A proud, community-minded Australian, Arthur had to meet the challenges associated with a diagnosis of Hodgkins Lymphoma aged 21.  

Arthur was lucky enough to be given the all clear. But he was never completely out of the woods. In his late 50s Arthur was diagnosed with head and neck cancer. He has met both health challenges with a courage and mindful determination that enabled him to eventually continue a long career, marry and raise a family which now includes grandchildren.

From his first diagnosis, Arthur was warned his cancer could kill him within six months. However, his doctor gave him a ray of hope with radiation therapy that was both gruelling and painful. "I completed five of the six weeks… I was irradiated from my neck down to my waist. This left me completely dehydrated, fatigued and malnourished." But, he recovered.

Then in  2015, towards the end of a fitting for a sleep apnea mouth guard, Arthur noticed a lump in the upper palate of his mouth. He spoke to the dental specialist who started him on the next cancer journey. "Oh no not again," was his first thought.  
Second diagnosis 
 Arthur knew from experience that it was necessary and vital to see a specialist if he was going to have a good chance against the disease. As he lives on the Central Coast, he was referred to Chris O'Brien Lifehouse in Camperdown.

This second time around he was diagnosed with a parotid adenocarcinoma, "Two-thirds of the roof of my mouth was removed surgically. A skin graft was taken from my wrist with a vein attached to replace the section where my palate was." He needed to remain in hospital until the graft had 'taken' and after four months commenced radiotherapy.

"Although my skin and inner tissues and my lungs had been affected by the broader type of radiation 40 years earlier, this time it was targeted radiotherapy where I used a mask for each session."
Treatment and side effects 
 Arthur found the changes in treatment of patients with cancer from over 40 years ago were significant. What impressed him was the urgency of the treatment plan and the support offered today by allied health professionals from across a range of disciplines; specialist cancer nurses, dietitians, physiotherapists, and psychologists to name a few. There is a system on the Central Coast of volunteer drivers taking unwell patients to and from treatment called The Shirley Shuttle which he had special praise for, "Wow, I needed that 40 years ago."

Arthur of course experienced some side effects from treatment including loss of saliva, which made it very hard to eat certain foods. He experienced numbness around the face and neck where nerves had been damaged, and mucus falling from his nasal passage down the throat and sometimes into his airway.

He felt very well informed of all possible side effects. "I always felt if I needed to know more, I could have asked."

Treatment for head and neck cancer often impacts a person's life well after treatment, especially affecting speech, eating, and swallowing. "Eating was the big one, and in some ways still is. Not being able to produce enough saliva makes it hard to eat certain foods. Going out for a meal or to a party can be a challenge."

But Arthur takes it in his stride. "Do I stay home because it's too hard?" Arthur's wonderful wife was his main carer and helped him tackle any issues with his diet.
Changes and Advice  
 
Having cancer brings home the feeling that every day is special, it is one more you have with family and friends. Arthur found his empathy for others gave him strength.

"When you are ill, you spend a lot of time in hospitals and clinics and you meet a lot of other people at different stages of their cancer or illness journey. Each person is different with their own stories, burdens and sorrows."

Arthur's advice for those experiencing head and neck cancer is to be patient and communicate. "Ask questions and listen, then ask more questions if you don't understand. Set yourself achievable goals, and be persistent. If something does not work nine times, try it the tenth time," he advises. "What may be a difficulty one day may change the next time you try."

Joining a support group for head and neck cancer patients, or even starting your own is an important part of recovery. "There is a genuine need for them," says Arthur.

The Central Coast Head and Neck Cancer Support Group Arthur is a member of meets monthly at the Cancer Council shop. It is not only for patients, carers are very welcome to join.

Work, life and leisure pursuits have helped Arthur in the transition to retirement with cancer. He knows himself well and has learnt to understand how he wants to be treated and what he needs.

"I know that I am one of those who has had it hard with challenges of pain, fear and loss. But I also know others have had it worse or lost their loved ones."

"Every extra day is a great day."

Many thanks to Arthur for sharing his story and to Denyse Whelan, Beyond Five Ambassador for interviewing Arthur and writing his story.