The Larykins - A Laryngectomy Support Group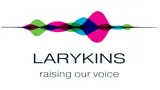 Meetings
Visit the Larykins website
Email to join the weekly Larykins Zoom meeting (held Friday afternoons from 4.30pm) 
Join the public Facebook page (anyone can access even if you don't have a Facebook account) 

The Larykins Group, coordinated by Mike George in Victoria, is for people who have had a laryngectomy (Larys) as well as their family and friends and ANYONE is welcome to join.
The Larykins group continues to grow in numbers across Australia and overseas thanks to word of mouth.

The group has participated in laryngectomy awareness education workshops at hospitals, met with people prior to their laryngectomy surgery to offer support, and most importantly the group provides encouragement for Larys to deal with challenges post surgery and adjusting to life as a Lary.

The Larykins also advocate with various Emergency Service groups and associated training institutions for an Emergency Resuscitation Care program for neck breathers (i.e. people who have a stoma in their neck).  Creating awareness, education and training for Emergency Services is vital for neck breathers.
The Larykins - Laryngectomy Support Group