Sunshine Coast HNC Support Group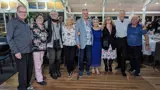 We are a patient led support group for people and their carers/families based in the Sunshine Coast who have experienced Head and Neck Cancer. We meet monthly either online or in person.
For meetings please contact:
[email protected]
M: 0405 478 020
A bit of history:


In 2019 Carol Adams walked out of Sunshine Coast University Private Hospital after having a third of her tongue removed and reconstructed and 36 rounds of radiation therapy traumatised and needing support. She needed to be around others who had experienced what she had, but there was no way of finding them so she decided to establish the
Head and Neck Cancer Support Group Sunshine Coast
in mid-2021.
On a Saturday night in July, 2022, Carol and fellow group members, Chris and Christina Fletcher and Julie and Peter Lewis brought together over 140 family and friends at the
Headland Golf Club
 to raise awareness of head and neck cancer and much needed funds for 
Head and Neck Cancer Australia
with their inaugural #soupforthesoul event.
With the help of a great MC, Annette Sym of
Symply Too Good
, entertaining auctioneer, Rueben Park of
Ray White Maroochydore
, the hard work of her support group in soliciting raffles and auction items from local businesses, the support of her family 
Yvette Adams
 and the generosity of the people who attended, the group raised over
$13,000
in one evening!
140 people also walked away having learned more about the changing face of #headandneckcancer, the signs and symptoms to look out for and the unique challenges faced by people living with #HNC after an emotional speech from Cancer Nurse, Ebony Hetherington from the Sunshine Coast University Hospital.
Thank you to Carol and her team for organising such a wonderful event to support
Head and Neck Cancer Australia
and for all that you do to support each other and to raise awareness of HNC in your local community.
2022
2023
Head and Neck Cancer group Sunshine Coast held a second fundraiser on the 29th July 2023 at the Headlands Golf Club, which was another wonderful success.
We held an auction and had lots of wonderful raffles to be won. Some of the money was donated to HANCA to help with the wonderful job they do for the whole of Australia, and what with what we have left we will make Care Packages for Head and Neck Cancer sufferers on the Sunshine Coast.
We are already planning next years' bash!