Gold Coast Head and Neck Cancer Support Group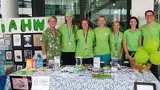 Contact Hours: 8.00am to 4.00pm Monday to Friday. We will get back to those who enquire within 24 hours.
 
The aim of this group is to provide a forum where Head and Neck Cancer survivors can:
Meet other cancer survivors who have shared a similar journey to their own
Support one another
Receive information/education on various topics relating to cancer treatments including long term post treatment care 
We believe there is a lot to gain from attending these groups and encourage you to attend.
 
Family/carer's / partner also welcome to attend
Contact persons:   [email protected]
Georgia.Brett@ health.qld.gov.au
2023 dates: Tuesdays
28 February
18 April
27 June
29 August
31 October
12 December
Meeting Times: 10am -12pm
 
Group Description
We exist to assist people who have been diagnosed with any Head or Neck cancer who are about to start treatment, are in the process or are post treatment.
Area Serviced
Gold Coast
Services
Specific issue
Who can join
People with Head and Neck Cancer and their carers.
Membership Fee
Nil
Gold Coast Head and Neck Cancer Support Group
Address:
Gold Coast University Hospital
Allied Health Department
D Block Ground Floor
Room DG 095/096
Contact:
Jennifer Hitchcock
Allied Health Assistant
56870361