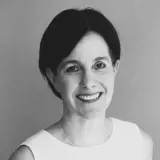 Nadia was part of a passionate team to launch Australia's first national Head and Neck Cancer charity in 2016 and is its inaugural CEO. She has more than 15 years experience working across the not for profit sector and NSW State Government in marketing and communications and was privileged to work for the late Head and Neck Cancer Surgeon, Professor Chris O'Brien.
Nadia is passionate about growing a united Head and Neck Cancer community across Australia and working collaboratively to improve the lives of people living with Head and Neck Cancer and raising awareness nationally to increase early diagnosis and encourage prevention.
Nadia helped secure the first Federal Government grant in 2022 to support people living with Head and Neck Cancer and to organise the first Head and Neck Cancer Parliamentary Event in March 2023 helping to give people in the Head and Neck Cancer community a voice.
Nadia completed her undergraduate degree in Business with a major in Marketing at the University of Canberra. 
Email [email protected]
Team Members
Barbara Smith, Fundraising Manager (part-time)
Susie Riddell, Communication and Digital Marketing Manager (part-time)