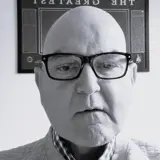 Ron spent over 30 years as an executive of sporting organisations, primarily basketball and swimming. He helped to establish the E J Whitten Foundation, in memory of AFL Legend Ted Whitten including staging the first E J Whitten Legends Game, involving past greats of the game, aimed at raising funds for prostate cancer research.

Ron was diagnosed with tonsil cancer in 2014 and treated with radiation therapy and chemotherapy. In 2021 Ron was diagnosed with a Squamous Cell Carcinoma of his tongue and jaw and had 60% of his tongue and 30% of his jaw removed with a flap taken from his thigh to reconstruct his tongue and jaw.

Ron credits the healthcare professionals who treated and cared for him during his recovery for literally saving his life. He is passionate about offering as much help as he can in the pursuit of a better outcomes for people diagnosed with Head and Neck Cancer and is looking forward to bringing his professional and treatment experiences to the HANCA Board.

Ron lives in Melbourne and is married with two sons and three gorgeous grandchildren.