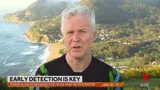 Early Signs of Head & Neck Cancer
What can you do to look for early signs of Head and Neck Cancer?
Finding cancer early is important for all cancers. Unfortunately there are no formal screening tests or national screening programs for Head and Neck Cancer. The following signs and symptoms are common for many types of Head and Neck Cancer:
A neck lump
A lump or sore that does not heal
A red or white patch in the mouth
Swelling, bleeding, pain or numbness in the face or within the mouth
Trouble speaking
Hoarse voice
Difficulty chewing or swallowing
A sore throat that doesn't get better after a week or two
Ear pain that doesn't go away
You know your own body better than anyone else. If you think that something isn't right or if you have any of these signs or symptoms for three weeks speak with your doctor or dentist.
140,000
New website visitors in 2022
5,515
Information sheets downloaded.